You dream – we build. It's that simple.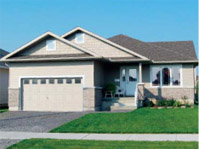 If you are searching for construction of your new dream home in Brockville, then you have come to the ideal place.
Spring Valley Homes knows that buying a new home is one of the biggest investments you may ever make, and we are committed to listening to what you want in your new home construction. We are very proud of the level of service we provide, and we will be with you every step of the way on the journey of creating your new dream home.

We feel you deserve the finest in your new home, and we strive to give you added bonuses. Have you considered the benefits of new home construction?
Spend more of your precious time doing things you love – rather than wasting your evenings and weekends struggling through lengthy maintenance projects.
Your new home will have incredible sentimental value as you enjoy your own tastes and personal touches.
Indulge in the comfort of knowing you and your family will be safer and healthier in a home built to today's rigorous construction building standards.
If you are an allergy sufferer, you can breathe easier in your new home knowing there are no traces of previous pets, smoke, or other allergens.
Feel a profound sense of security knowing that your fabulous new home is built to last.
You can rest assured that your new home will conform to your plans, not ours.
Feel a greater sense of pride and accomplishment knowing you helped create your new home in Brockville.
Your home will be easier to maintain, a pleasure to live in, and you will enjoy all the luxury you desire and deserve.
New homes are better built, better designed and use better materials, rather than the obsolete technologies of the past.
Your gorgeous new home will reflect your lifestyle and personality.

We have built over 200 quality new homes in Brockville, and we work hard to set ourselves apart from the rest by adding the characteristics you are looking for, counting on, and need:
The tremendous craftsmanship we use to construct each home is part of what gives us our impeccable reputation.
We stay with you every step of the way – from planning your new home, to construction, to final inspection and beyond.
Our thicker sub floor's will give you a greater range for future floor finishes.
Light switches are installed at 42" for easy reach.
Each new home is customized to fit your vision.
Leading edge designs to choose from.
Communication is always in a clear and timely manner.
Our doorways and stairways are wider than minimum code requirements for easy access.
We use low E argon filled windows and low consumption fixtures for maximum efficiency in your new home.
Spring Valley does the homework for you, and ensures you are getting state-of-the-art construction of your new home, one less thing for you to worry about.
We stand behind our products, and that's why we give you a 2 year mechanical and 7 year structural warranty on our new homes.
You get comfort in knowing our homes are consistently built on schedule.
Only quality, top branded construction materials are used on our new homes.
The products we choose for you will make your new home energy efficient.

After almost 25 years constructing new homes in the Brockville area, we have not only built up a solid reputation with our clients and our subcontractors, we have also persistently improved our homes as new technologies come forth. You can expect excellent communication and a commitment to build your new home to your desires. That's our word of honour.
Home | About Us | New Homes in Brockville | Advantages | About Wildwood | Contact Us
---
spring valley, spring valley homes, spring valley home, wildwood, wildwood houses, wildwood homes, wildwood home, wildwood house, homes, home, houses, house, brockville, brockville ontario, ontario, brockville houses, brockville house, brockville homes, brockville home, builder, builders, brockville builder, brockville builders, swallow beck, new home, new homes, new houses, new house, new home builder, new home builders, new home construction, new homes brockville, new home brockville, new house brockville, new home brockville, brockville new homes, brockville new houses, brockville new home construction, brockville new house construction